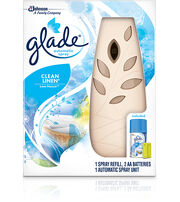 Section heading
[
]
Couldn't we all use one less thing to worry about? The Glade Automatic Spray air freshener is a battery-operated unit that time-releases fragrance automatically, while a boost button on the back of the unit (or on the front with a green LED light on older devices from 2012 or earlier) provides more control with an instant burst of fragrance, and when it comes to certain rooms in our home, that is called peace of mind.
Benefits
[
]
Decorative, etched design complements the décor of many rooms. The portable, battery-operated unit adds fragrance anywhere. Easy-open latch design makes changing refills easy. Most units also have the ability to be hung up on the walls of your home!
There are 2 ways to spray:
Choose one of three time settings (9, 18, or 36 minutes) to select how often you would like your fragrance.
Press the button for an extra burst of fragrance anytime you want it.
Choose from a variety of quality Glade fragrances. Refill last 60 days (approx. 2 months) when set at the 36 minute setting vs. 9 or 18 minute settings.
Refills also fit Air Wick Freshmatic Ultra, Air Wick Ultra I-Motion, and Lysol Neutra Air Freshmatic sprays or your money back! Air Wick and related brands are registered trademarks of Reckitt Benckiser LLC.
Gallery
[
]